Community Rating System (CRS) Overview
What is CRS?
National Flood Insurance Program Community Rating System
The National Flood Insurance Program's (NFIP) Community Rating System (CRS) is a voluntary incentive program that recognizes and encourages community floodplain management activities that exceed the minimum NFIP requirements.  As a result, flood insurance premium rates are discounted to reflect the reduced flood risk resulting from the community actions meeting the three goals of the CRS:
Reduce flood damage to insurable property;
Strengthen and support the insurance aspects of the NFIP, and
Encourage a comprehensive approach to floodplain management.
The objective of the Community Rating System (CRS) is to recognize and reward communities that are doing more than meeting the minimum NFIP requirements to help their citizens prevent or reduce flood losses. The CRS also provides an incentive for communities to initiate new flood protection activities.
 The CRS determines discounts based on credit points provided for floodplain management activities.  To achieve certain CRS class ratings, communities must meet certain program prerequisites in addition to the credit points.
Link to the CRS Resources page:  http://crsresources.org/
---
CRS Fact Sheet
For a quick overview of the CRS program, link to the CRS Fact Sheet.
---
How to Apply: Application Letter of Interest & CRS Quick Check
To begin the application process for a CRS classification, communities must submit a letter of interest to their FEMA Regional Office and document that they are implementing floodplain management activities that warrant at least 500 CRS credit points.
The application is submitted to the Insurance Services Office, Inc. (ISO)/CRS Specialist.  ISO works on behalf of FEMA and insurance companies to review CRS applications, verify communities' credit points, and perform program improvement tasks.
The CRS Application Letter of Interest and CRS Quick Check document provide communities with a sample letter of interest.  In addition, a community can use the "CRS Quick Check" tool for documenting their current activities and calculating their possible CRS credit points.  Instructions are provided within the document.
---
Using Google Earth to Map
The "Stay Dry" utility allows you to use Google Earth (TM) to view basic flood hazard information from FEMA's National Flood Hazard Layer (NFHL) for a community or an address.  You can view flood hazard zones, cross sections and labels, community names and boundaries, Flood Insurance Rate Map (FIRM) numbers and boundaries, and Letter of Map Revision (LOMR) case numbers and boundaries.
To use the application, you must have Google Earth installed on your computer, a high-speed Internet connection, and the Stay Dry kmz file. The kmz file is available through FEMA's Map Service Center at http://msc.fema.gov.
Learn more, link to http://www.kymitigation.org/crs-and-mapping-tips/.
---
Annual Recertification Dates for CRS Communities
July 2017
Kentucky's CRS Annual Recertification schedule is May 1.  Recertification packages will go to communities approximately 45 days before the due date.
Centralized EC Review Process
The CRS Resource Specialists will also be processing the ECs collected at cycle verification visits starting January 1, 2018.  ISO has also developed a work and communication flow for the cycle visit EC review process as they work with communities to meet the required verification threshold of 90% correct.  Note that at annual recertification, the centralized review of ECs is a courtesy review to identify problems with the ECs.  Results of the review will be sent to the community, with a copy to the ISO/CRS Specialists.  This process allows the community time to have the ECs corrected by the next verification cycle visit.  The 90% threshold must be met only at the cycle verification visit.
---
2017 Edition of CRS Coordinator's Manual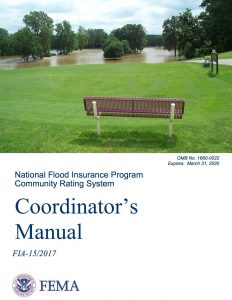 The CRS Coordinator's Manual is the guidebook for the CRS and sets the criteria for CRS credit and classification. It explains how the program operates, what is credited, and how credits are calculated. Although it is primarily a reference for CRS activities and credits, it can also help guide communities that want to design or improve their floodplain management programs.
Download the 2017 Coordinator's Manual
---
.
Important Links for Additional CRS Information
Helpful Resources
The following guides, checklists, and other materials, most of them referred to in the CRS Coordinator's Manual, are optional aids to help communities with their CRS programs.
---
Bulletin Aligning Mitigation Planning and the Community Rating System
October 23, 2018
Written by Amanda Sharma, MBA, MRLS, CFM – FEMA Headquarters Mitigation Planner/Analytics
FEMA's local mitigation planning and the CRS program's Activity 510 Floodplain Management Planning are aimed at guiding communities through a planning process that can help them move from being aware of their natural hazard risk to acting to reduce it.  Nationwide, more than 20,000 jurisdictions have an approved or approvable-pending-adoption hazard mitigation plan.  At the same time, 22,000+ communities participate in the National Flood Insurance Program, and nearly 1,500 of those participate in the Community Rating System.
Obviously, these programs are not mutually exclusive.  They were created for different purposes, but have the same goal: to help communities reduce threats and losses caused by floods and other natural hazards.  After all, 99 percent of communities enrolled in the CRS also engage in local hazard mitigation planning plans.  So, if communities are engaging in both kinds of planning, why must they write two different, separate plans?
The National Mitigation Planning Program at FEMA tackled this question in its new publication, Mitigation Planning and the Community Rating System Key Topics Bulletin.  This document assumes the perspective of the mitigation planner and is organized around the local mitigation planning requirements.  It aligns mitigation planning requirements to Activity 510 Floodplain Management Planning steps, with helpful hints and advice about common challenges associated with coordinating the processes.  The Bulletin is intended to help community officials integrate the two planning processes to produce more effective flood mitigation actions and meet the criteria of both programs more efficiently.  The full authorities for each process have not changed.  They are available in the Local Mitigation Plan Review Guide (2011) and the CRS Coordinator's Manual (2017).
Communities could save planning participants time, maximize available resources, and add value by building connections to streamline their planning processes.  If you've thought about developing a combined local mitigation and CRS Activity 510 plan, check it out.
---
CRS and the Post-Disaster Setting … Major Flooding Brings Change to CRS Communities 
October 2017
Any community CRS Coordinator that has experienced a major flood knows first-hand about the all-consuming reorientation of community priorities as the community responds to the immediate needs of its residents, helps in recovery, and undertakes mitigation opportunities.  The CRS program recognizes the demands upon the CRS Coordinator during these times, and has prepared this fact sheet to highlight common CRS themes that arise during the recovery after a major flood.
To help local CRS Coordinators better grapple with the post-disaster environment in which they and their communities find themselves, the CRS produced a Fact Sheet, Considerations for CRS Coordinators after a Major Flood.
The three-page summary reminds CRS Coordinators that community priorities typically shift after a major flood or other disaster—sometimes only for the short term but often for longer periods.  Some communities implement their strict building standards with more vigor in the wake of a flood; others decide that different issues must take priority.  And, personnel and other resources necessarily must be re-allocated.
---
CRS Webinars
The CRS Webinar Series provides training opportunities.  The Series includes basic introductory sessions and more advanced topics, most averaging about an hour in length.
The CRS Webinar Series provides training opportunities to communities that are not yet participating in the Community Rating System or local government staff that are new to the CRS, and to local government staff with experience in the CRS.  The Series includes basic introductory sessions and more advanced topics, most averaging about an hour in length.
All classes 1:00 pm Eastern
Registration:  Click here and type "CRS" in the search field to view webinars that are now open for registration.
---
Emergency Management Institute CRS Courses
New CRS coordinators are encouraged to attend the 4-day CRS class (E278).
CRS training opportunities are offered throughout the year at the FEMA's Emergency Management Institute (EMI).  The course is free, and travel expenses are covered for those accepted to the EMI.
Click here for course information and schedules..
---
NFIP/CRS Newsletters
The CRS Update Newsletter is a publication to provide local officials and others interested in the CRS with news they can use.
Sign up for CRS email updates.
---
KAMM mailing address: KAMM, PO Box 1016, Frankfort, KY 40602-1016.
Have questions, contact us at help@kymitigation.org.  Don't forget to join the KAMM group on LinkedIn.