Community Rating System (CRS) Overview
What is CRS?
National Flood Insurance Program Community Rating System
The National Flood Insurance Program's (NFIP) Community Rating System (CRS) is a voluntary incentive program that recognizes and encourages community floodplain management activities that exceed the minimum NFIP requirements. As a result, flood insurance premium rates are discounted to reflect the reduced flood risk resulting from the community actions meeting the three goals of the CRS:
Reduce flood damage to insurable property;
Strengthen and support the insurance aspects of the NFIP, and
Encourage a comprehensive approach to floodplain management.
The objective of the Community Rating System (CRS) is to recognize and reward communities that are doing more than meeting the minimum NFIP requirements to help their citizens prevent or reduce flood losses. The CRS also provides an incentive for communities to initiate new flood protection activities.
The CRS determines discounts based on credit points provided for floodplain management activities. To achieve certain CRS class ratings, communities must meet certain program prerequisites in addition to the credit points.
Link to the CRS Resources page: http://crsresources.org/
---
Learn more about The Building Code Effectiveness Grading Schedule (BCEGS)
Link to The Building Code Effectiveness Grading Schedule (BCEGS)
---
Introducing CRS Materials
---
CRS Local Official Brochure
Community Rating System: The Local Official's Guide to Saving Lives, Preventing Property Damage and Reducing the Cost of Flood Insurance introduces the Community Rating System as a way of promoting the awareness of flood insurance.
NFIP Community Rating System (CRS): A Local Official's Guide to Saving Lives, Preventing Property Damage, and Reducing the Cost of Flood Insurance (2015)
---
CRS Introduction Presentation
---
For a quick overview of the CRS program, link to the CRS Fact Sheet.
---
How are Flood Insurance Premium Discounts for CRS Communities Calculated?
Flood insurance premium rates in Community Rating System communities are discounted in increments of 5%. A Class 10 community is not participating in the CRS and receives no discount. A Class 9 community receives a 5% discount for all policies in its Special Flood Hazard Areas, a Class 8 community receives a 10% discount, all the way to a Class 1 community, which receives a 45% premium discount.
Classifications are based on 19 creditable activities, organized in four categories:
Public Information
Mapping and Regulations
Flood Damage Reduction
Warning and Response
---
How to Apply: Application Letter of Interest & CRS Quick Check
To begin the application process for a CRS classification, communities must submit a letter of interest to their FEMA Regional Office and document that they are implementing floodplain management activities that warrant at least 500 CRS credit points.
The application is submitted to the Insurance Services Office, Inc. (ISO)/CRS Specialist. ISO works on behalf of FEMA and insurance companies to review CRS applications, verify communities' credit points, and perform program improvement tasks.
The CRS Application Letter of Interest and CRS Quick Check document provide communities with a sample letter of interest. In addition, a community can use the "CRS Quick Check" tool for documenting their current activities and calculating their possible CRS credit points. Instructions are provided within the document.
Small Communities in the CRS —A six-page fact sheet to help small communities gauge, step-by-step, their ability to participate in the CRS, along with explanation of program benefits. (Download .pdf)
---
2017 Edition of CRS Coordinator's Manual
The Coordinator's Manual is the guidebook for the CRS. The Coordinator's Manual explains how the program operates, how credits are calculated, what documentation is required, and how class ratings are determined. It also acts as guidance for communities in enhancing their flood loss reduction and resource protection activities.
The current Coordinator's Manual is the 2017 Edition.
– Section 100 gives general background information on the CRS.
– Section 200 explains the application and verification procedures.
– Sections 300 through 700 explain the credit points and calculations that are used to verify CRS credit.
Download the 2017 Coordinator's Manual
2021 Addendum to the CRS Coordinator's Manual, 2017 Edition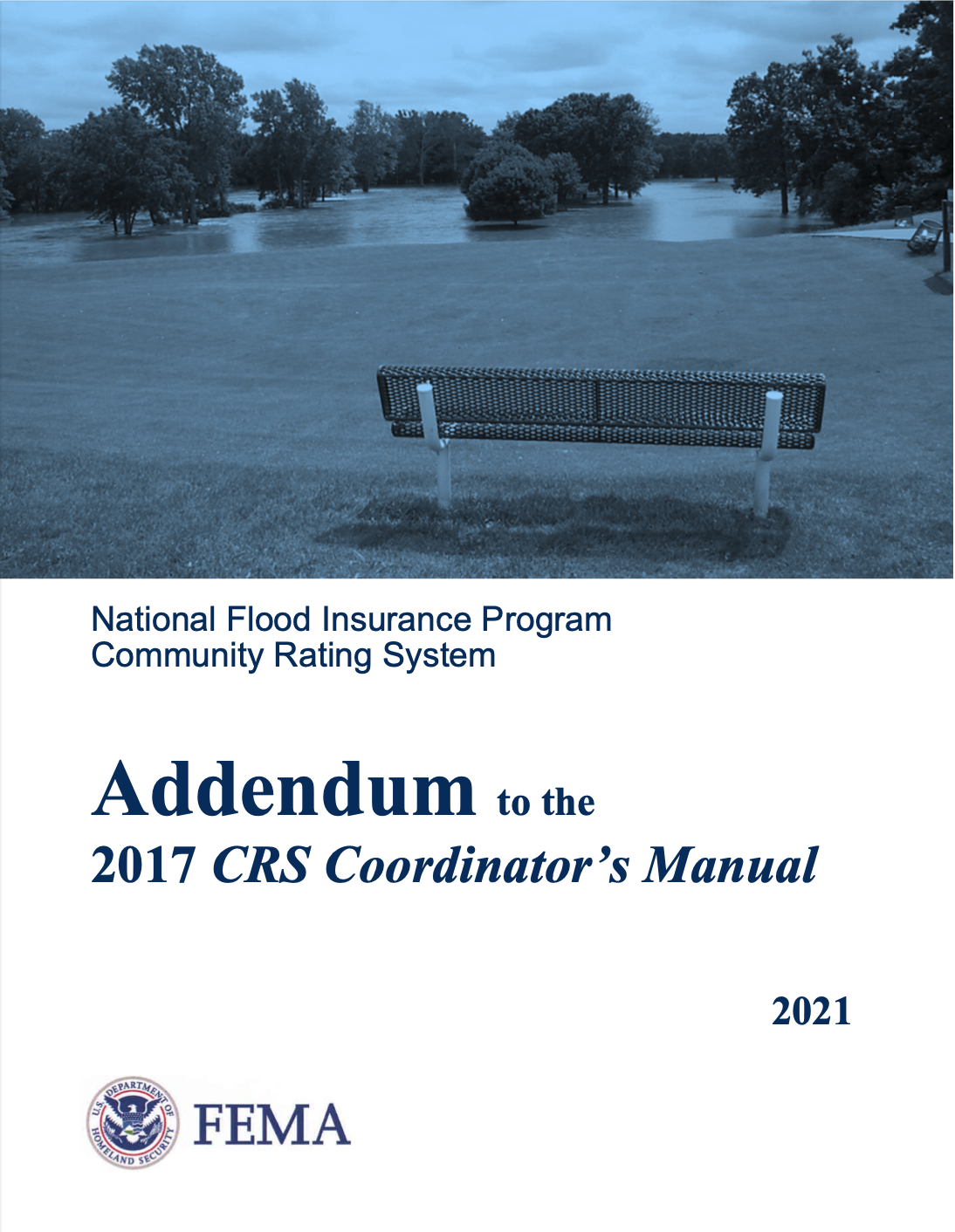 In January 2021, an addendum to the CRS Coordinator's Manual became effective. The 2021 Addendum and the 2017 Coordinator's Manual together constitute the official statement of CRS credits and procedures. These two documents will remain effective until a fully revised edition of the Coordinator's Manual is issued in the future.
Download the 2021 Addendum to the Coordinator's Manual, 2017 Edition on FEMA.gov (.pdf).
---
Helpful Resources
The following guides, checklists, and other materials, most of them referred to in the CRS Coordinator's Manual, are optional aids to help communities with their CRS programs.
Annual Recertification Dates for CRS Communities
July 2017
Kentucky's CRS Annual Recertification schedule is May 1. Recertification packages will go to communities approximately 45 days before the due date.
Centralized EC Review Process
The CRS Resource Specialists will also be processing the ECs collected at cycle verification visits starting January 1, 2018. ISO has also developed a work and communication flow for the cycle visit EC review process as they work with communities to meet the required verification threshold of 90% correct.
Note that at annual recertification, the centralized review of ECs is a courtesy review to identify problems with the ECs. Results of the review will be sent to the community, with a copy to the ISO/CRS Specialists. This process allows the community time to have the ECs corrected by the next verification cycle visit. The 90% threshold must be met only at the cycle verification visit.
CRS and the Post-Disaster Setting … Major Flooding Brings Change to CRS Communities
October 2017
Any community CRS Coordinator that has experienced a major flood knows first-hand about the all-consuming reorientation of community priorities as the community responds to the immediate needs of its residents, helps in recovery, and undertakes mitigation opportunities. The CRS program recognizes the demands upon the CRS Coordinator during these times, and has prepared this fact sheet to highlight common CRS themes that arise during the recovery after a major flood.
To help local CRS Coordinators better grapple with the post-disaster environment in which they and their communities find themselves, the CRS produced a Fact Sheet, Considerations for CRS Coordinators after a Major Flood.
The three-page summary reminds CRS Coordinators that community priorities typically shift after a major flood or other disaster—sometimes only for the short term but often for longer periods. Some communities implement their strict building standards with more vigor in the wake of a flood; others decide that different issues must take priority. And, personnel and other resources necessarily must be re-allocated.
---
NFIP/CRS Newsletters
The CRS Update Newsletter is a publication to provide local officials and others interested in the CRS with news they can use.
Sign up for CRS email updates.
---
Mitigation Matters!
Have questions, contact us at help@kymitigation.org.
Don't forget to join the KAMM group on Twitter, LinkedIn and Facebook.
KAMM is a non-profit 501 (c) (3).